Jodi Arias Murder Trial – Day Thirty
PSA
Court will be dark Monday and Tuesday, resuming on Wednesday, March 13.
Daylight Saving Time (United States) begins at 2:00 AM on Sunday, March 10.  Arizona does not observe daylight savings.
So next week, for the east coast, court will begin now at 1:30pm.  Adjust your schedule for your time zone!
Update: Judge wants to start at 10am which now changes east coast to 1pm!
I was pretty tickled by the jury questions yesterday.  It shows they have been paying close attention and they've caught onto her lies.  What I find fascinating is Jodi just can't keep to the script.  Every time she is asked a question previously posed, she gives an answer, but has to embellish with some extra details.  That's where she does the most damage!  She trips herself up!
I'm not thrilled that Nurmi and Juan Martinez will each get another go at the juror questions.  Yeah it's fun to watch Juan shred her, but geez, it will be like the third time we have to suffer through Arias' testiphony.  I say move along to the witnesses!
Court Begins at 10:48 with the rest of the juror questions.
You made comments about abuse, you comment 'as I understand now' or realize.  How is it you understand now?  The more time that passed I've have had time to reflect.  She talks to church people who visit her and they help her understand.
Anyone else who knows about your memory issues?  I don't think I have memory issues.
Did anyone else hear your altercations?  Yes, Dan Freeman, and his sister Desiree.
Travis was physical to you, were you ever physical to Travis before you killed him?  When he choked me, I think my hands were free and tried to push him off me.
In stress of fog how do remember the events?  I don't recall everything.  She doesn't process the words, but she remembers pain and her feelings at the time.
What happened to the gas cans after the road trip?  They came back to my grandmother's.  I was going to return them to Darryl, bit never got the chance
Regarding shaking and fog do you still have those reactions?  I've gotten better about it.  If someone yells at me, I still shake.
If you were scared of Travis, why would you let him tie you up?  He was in a good mood and that was the Travis I liked.  He wasn't showing any anger.
Do you recall the injuries to Travis' body without the aid of photos?  No, I didn't even realize I shot him.
Had you ever had any gun training or fired a gun before this?  No, not really.
How far were you from Travis when the gun went off?  Maybe as far as the court reporter?  I don't really know.
What about the holster you mentioned?  I only saw the holster before I moved.  I never saw it after that?
Well, that blows what she said the other day!
You say you know of the stab wounds based on logic, how do you explain the blood on your hands, clothes, and the bloody palm print?  I just know we struggled.
Was he chasing you after the shot in the head?  We had fallen over and we struggled on the floor.  As soon I got away, I couldn't say.
Yikes, I didn't kill Travis, the GUN killed Travis.
Claims she wrote out all her suicide notes and sent them to her grandmother with note not to open till November 10 because she hoped to be dead by then.
So, where the heck are those letters?
Yippee, additional questions from the jury!!!
Swear, if I could reach through the screen, I'd slap the crap out of Jodi's mother for sitting in court giggling with her friend!!!  No wonder her spawn acts the way she does!!!
Judge sends jury out for 5 minutes…
Defense huddled with Arias…
Jury returns at 11:36.
Stated today you did not have professional help in dealing with your issues, yesterday, you stated you talked to a psychologist to help you deal with the child porn issues?  That wasn't for help, it was an evaluation.
You claim everything happened so fast you didn't have time to think, how was it you thought to grab the gun?  It was just a reaction, no thinking.
You claim you have memory issues, how can you remember some things?  I don't think I have memory issues different from the ordinary person.
Did Mr. Martinez make you shake?  Yes, during opening statements.  It happened most every day, especially during cross.
Show of hands…anybody see her shaking???
What happened to the suicide notes to your grandmother?  I mailed them to her and asked her to hold them.
Again, where are those friggin letters?
Were you in the fog when kissing Ryan?  Yes.
Nurmi up on whatever the hell we are calling this!
You received the book of Mormon and you read a chapter a day?  Yes.
Does that contain a list of chastity things that are ok or not ok?  No.
Remember, she said she based everything on what Travis explained to her!
Ughhhh…this is just Nurmi trying to tighten her direct testiphony!
Judge calls lunch break…
Kill me!  Judge just took the bench and Nurmi whines to approach!
Jury brought in at 2:48.
Nurmi up…
Your breakup with Mr. Brewer in 2006, you said your relationship was coming to and end. Yes it started to fizzle in the summer of 2006.
You ended the relationship after you went to the PPL convention and met Mr. Alexander?  Yes.
You initiated the conversation of the breakup?  Yes, I asked if we could talk.
Nurmi is just rehashing the direct testimony and has gone so far astray of the juror question of, 'with respect to the breakups, who initiated the contact after the breakup'?
This has just got to be pissing the jurors off, big time!
The issue of suicide letters came up, do you remember that?  Yes.
Nurmi shows her exhibits of …OMG!…the suicide letters!  How did these not come up before and they magically appear after the jury questioned her???
Fake crying as she reads through these!
She confirms they are her suicide letters.
Now a journal entry from August 26, 2007.
So, you've been contemplating suicide for a long time?  Yes, but there was a break till after Travis passed away.
Again, far astray from what the jury wanted to know!
Nurmi is gonna drag this out all day and prolly into next week.  He's bringing in all kinds of crap that wasn't in the original testiphony and I'm pretty ticked off this is allowed!!!
Ok everybody, run quick and get your foil hats and set your taser on stun!
Notice I'm not typing anything but snarky remarks!
I refuse to type any of this.  I have so tuned all of this out because this is Nurmi and a do-over.  Judge needs to stop this crap from continuing! 
How did Mr. Alexander obtain the gun?  My understanding is his father….
Objection, sidebar.
Afternoon recess.
So, looking for suggestions on how to prep Thanksgiving dinner with the trial going on.
Back at 3:24.
Oh, Juan objected to the suicide letters coming in as exhibits!   They're self-serving hearsay.  My understating is there has to be an act of conformity and she's still here!
Bwwahhhahaha!
Judge currently reviewing the suicide notes.
We resume at 3:33.
The ownership of Mr. Alexander's guns, did you understand that was to be kept secret?  Yes.
The camera from June 4, you did not take it with you?  No, I did not take it.
On the day of the murder, she now doesn't remember the gun being in the holster!
She doesn't remember cocking the gun or taking the safety off.
Was the knife ever with you in your car?  Not at any time.
Do you have a recollection of disposing of the knife?  I have a vague memory of putting a knife in the dishwasher, but that could have been another time.
You were asked about shaking.  You said you were shaking during cross?  Yes.  I was shaking everyday, but mostly on the first day of cross.  Said she had her teeth clenched so they would chatter.  She wouldn't reach for the water for fear of the prosecutor noticeing.  Claims she tenses her entire body to control it!
Liar, Liar!
What are you ashamed of in relationship to June 4?  Because of what I did and I was capable of being pushed to that point and things Travis and I had done.
You lied throughout this case? Yes.
Why should anyone believe you now?  I lied to protect Travis' reputation.
Martinez is up.
You told you were going to tell the truth and whole truth?  To the best of my recollection?
Not your recollection, did you swear to that?  Yes.
You told the pedophile story to a psychologist?  Yes.
You told Matt?  Yes.
He would never betray you and he's an ally?  Yes.
He would even lie for you?  No.
Do you recall the incident with Matt…
Objection, beyond scope of the questions…
Hey, pot calling kettle black here!!!
You told a therapist?  He was not a therapist.
Ok, psychologist…
Objection…sidebar…overruled…
You told Richard Samuels?  Yes.
He is assisting in your defense?  Yes.
Alyce Laviolette is also going to testify on your behalf?  Yes.
The statements to Samuels were made years after the case began to be prosecuted.  I don't remember, I told maybe a year after.
It was 2010?  I can't say.
Talking about this for years would benefit you?  I don't know.
You told Laviolette years after you told Mr. Samuels?  I don't know if it was years.
So you did what you were told?  I just answered them.
You told somebody else?  Yes.
When?  April 2008.
You were arrested on July 15, 2008.  You had interviews on the 15th and 16th?  Yes.
When did you tell Samuels about the pedophilia?  2009, not sure of the month.
What was the date you told this other individual about the pedophilia?  I don't know it was some guy, I don't know who he is.
You couldn't remember whether you filled your car or the gas cans first?  Yes.
You told the jurors this morning you filled the cans and put the hose in the pump that ended the transaction.
You purchased a 5-gallon can in Salinas?  Yes.
You told us you have a good memory when nobody is yelling at you?  Yes.
You returned the can to Wal-Mart?  Yes.
Why did you show up in Salt Lake City with 3 gas cans?
Objection…sidebar.
In Salt Lake City?  I don't remember going to Salt Lake City.
She's back to the "to the best of my recollection".
You don't?  I don't know where the borders are.
Martinez whips out the gas receipts for the 6th and they show 4:05 am and her gas purchases.
He also whips out her Washington Mutual bank statement for June 2008.
Martinez moves to enter exhibit.
Nurmi objects and asks to approach…
Judge admits the exhibit.
Her ATM purchases confirm 3 purchase of gas.  $36.98, 41.18, and 19.65.  The $19.65 correlates to 5 gals of gas!
Would you be surprised the Wal-Mart in Salinas doesn't have any record of
Object…sidebar…
He shows the June 3rd receipt from Wal-Mart of the purchase of the can.
Would it surprise you Wal-Mart has no record on that day of any return of a gas can?  Yes, because I did return it and received cash.
Folks return things all the time and know they cross the item out on the original slip and give another receipt for the return.
You cut your right hand at Casa Ramos?  Yes.
And you filled out no accident report?  No, it's a small business.  There are only 4 or 5 locations.
You told the manager about it?  I asked him for a band-aid.
You never told him you were injured on the job?  Asking for a band-aid says I was injured.
He didn't ask anything about how you were injured?  It was very busy and we didn't have time to discuss.  I don't recall what was discussed.
But you told us you have a good memory!
Court recessed for the day.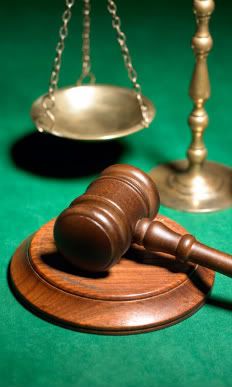 PROTECT VICTIMS…not criminals
Previous Posts
Visitor Comments
All comments are moderated. You may disagree, but please be respectful to all contributors and visitors.
Wild, bizarre, unsubstantiated claims and accusations will not be published - flaming, trolling, racism, degenerate views...you get the idea!
Don't make me open this can of WHOOP ASS!!!
Archives
Categories
Blogroll
To email Calls For Justice
donchais@gmail.com
Disclaimer
All information, opinions, and comments provided on this site are for informational and/or entertainment purposes only and is provided on an as-is basis.

This work is licensed under a Creative Commons Attribution-NonCommercial-NoDerivs 3.0 Unported License.
Authorization for use beyond the scope of this license may be available at https://callsforjustice.wordpress.com/.
Copyright © Calls For Justice. All rights reserved.